SEO Services
for Detailers
Increase your detailing business's brand visibility on Google with a proven and tested SEO strategy. We create real business impact for detailing business owners based on in-depth analysis and research on SEO to allow them to dominate their competitors.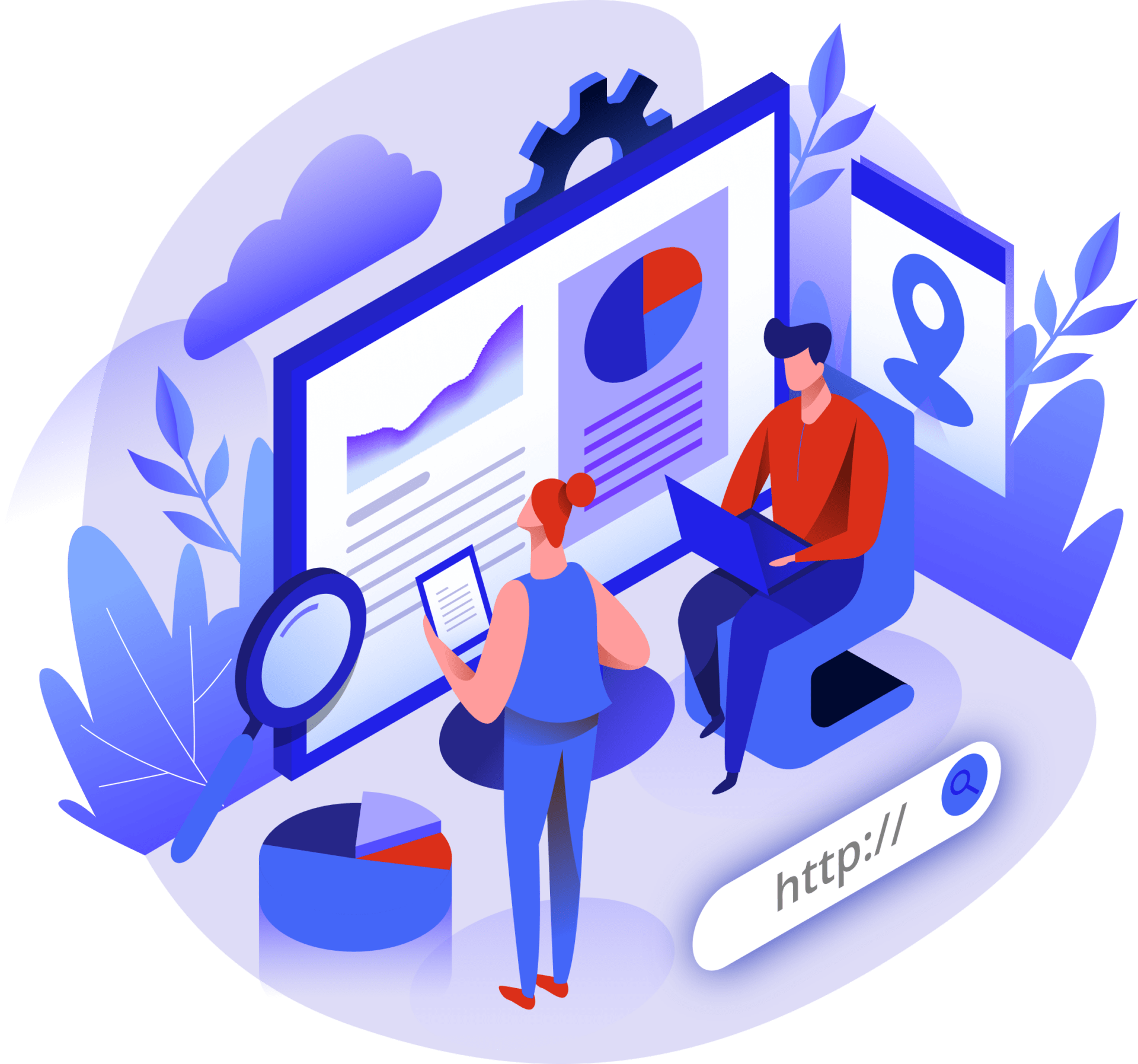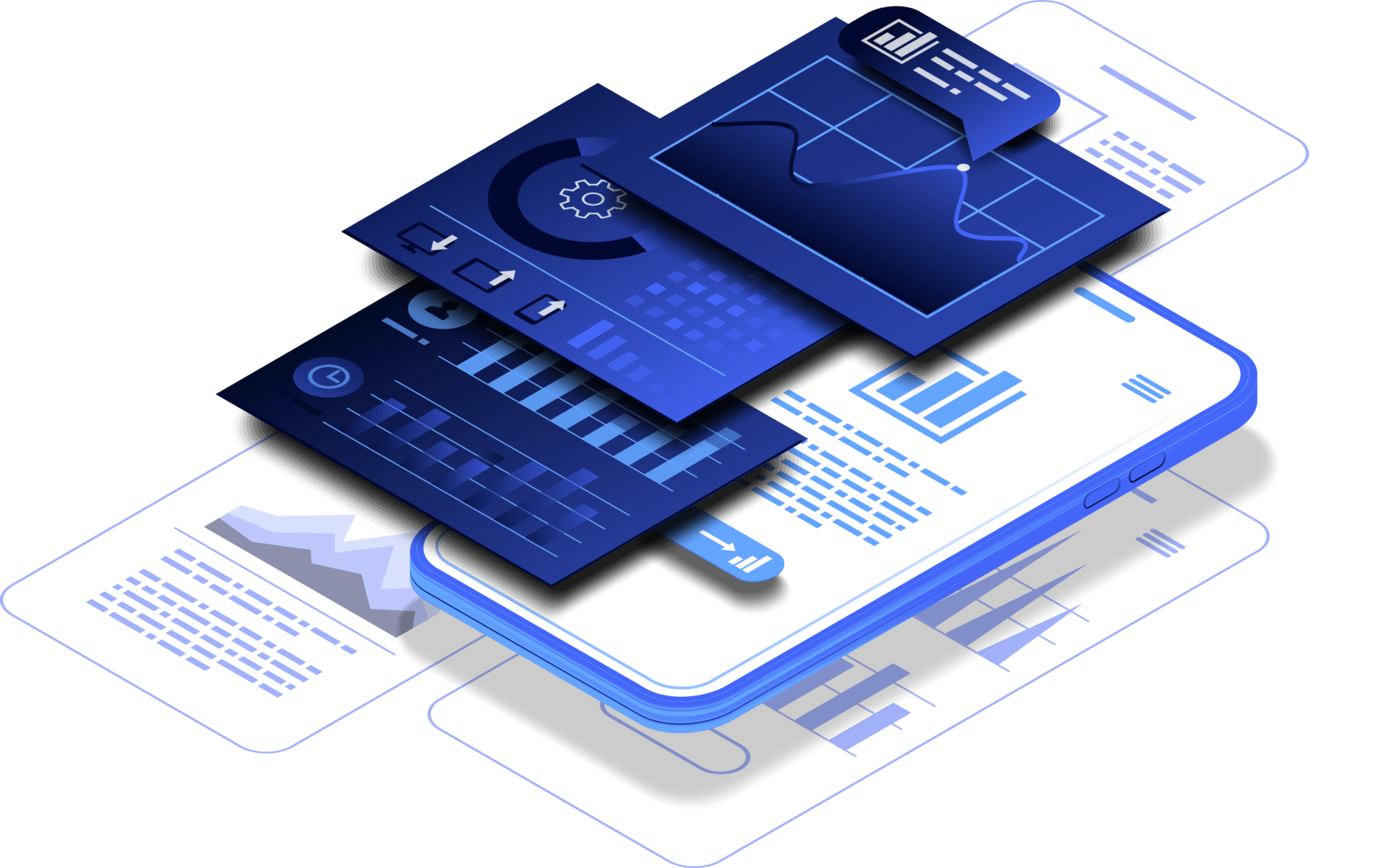 What are the Benefits of SEO for
Auto Detailing Businesses?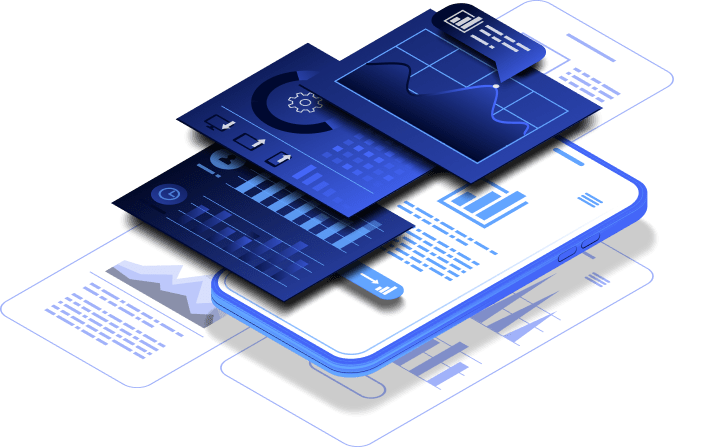 SEO (Search Engine Optimization) helps improve the performance of your website in the Google, allowing your business to be well-ranked and reach customers in the top positions on SERPs (Search Engine Results Pages).
For Auto Detailing businesses, we have conducted research and measured the conversion rate of users on Google, and the results are extremely promising. Customers frequently search for detailing shops to take care of their beloved vehicles through Google. They often rely on reviews on Google Maps and the presence of businesses on SERPs (Search Engine Results Pages). This increases the credibility of the business in their eyes, and they trust that you will provide the best solutions for their vehicles.
Our SEO services for Auto Detailers, PPF Installers, Ceramic Coating, Tint and Wrap installers, will allow your business to stand out among thousands of other shops.
SEO Packages for
Detailers
Local SEO is the best strategy for Detailing businesses. With Local SEO, your business will stand out among others in the local area. Over 83% of customers search for local Detailing shops nationwide in the United States.
Creating a great impression for customers when they visit your website will help them perceive your professionalism. Professionalism, trustworthiness, and ease of scheduling appointments are all part of the UX/UI experience.
Enhance the technical aspects of your website for optimal performance. We'll accelerate page loading speed, resolve indexing concerns, and optimize your website's architecture for seamless navigation.
Enhance the technical aspects of your website for optimal performance. We'll accelerate page loading speed, resolve indexing concerns, and optimize your website's architecture for seamless navigation.
Fresh content is published monthly, focusing on your services, to help users gain a better understanding of your offerings. Additionally, it includes detailing tips, targeting customers from the top to the bottom of the funnel.
We continuously analyze and update trends to optimize the conversion rate for your business. You will receive monthly reports to gain a better understanding of the effectiveness level.
SEO Packages for
Auto Detailers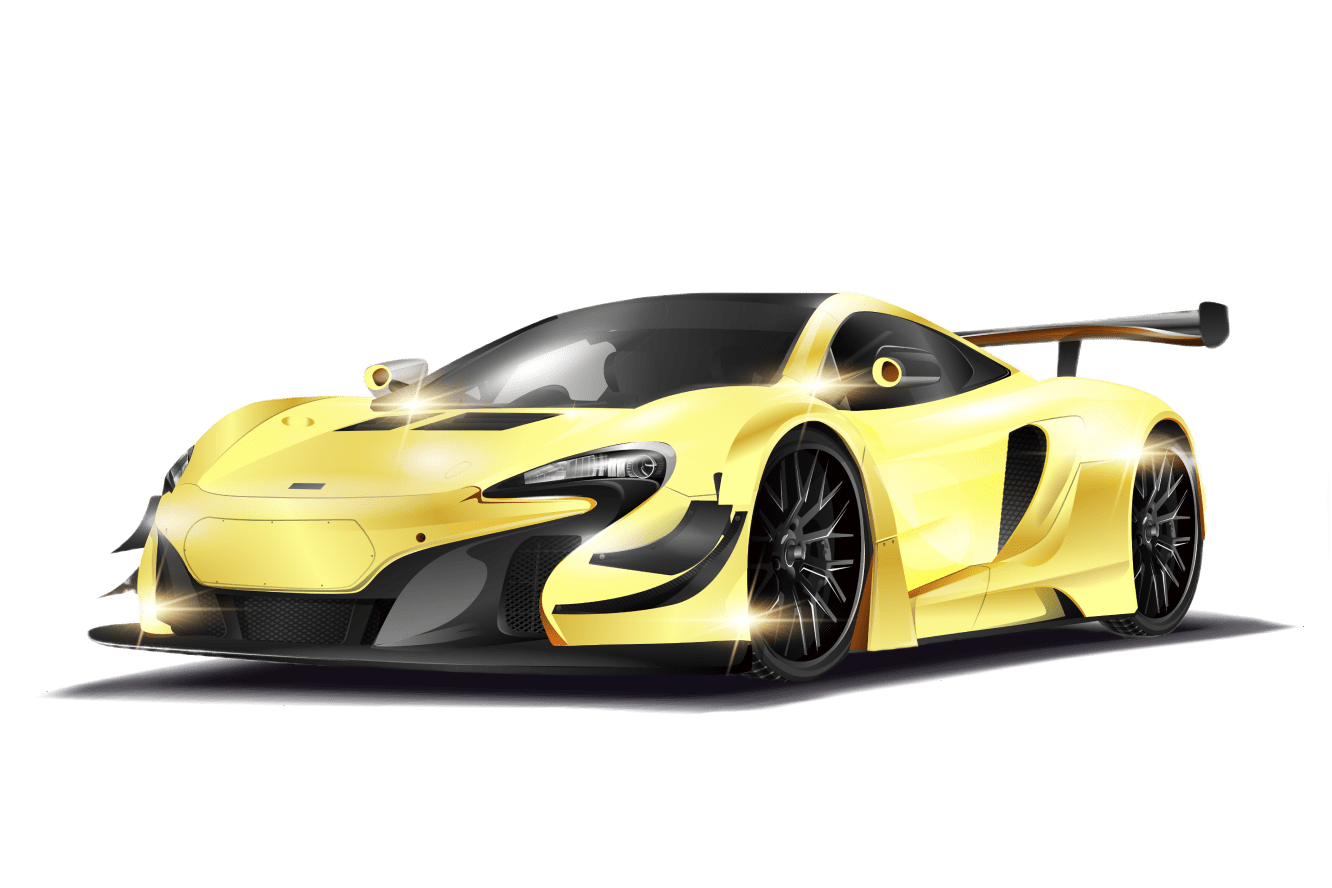 The SEO Gold package will help your business appear on Google SERPs with many the keywords related to the services you provide locally and in surrounding areas. Suitable for businesses in medium cities.
Pricing: Contact us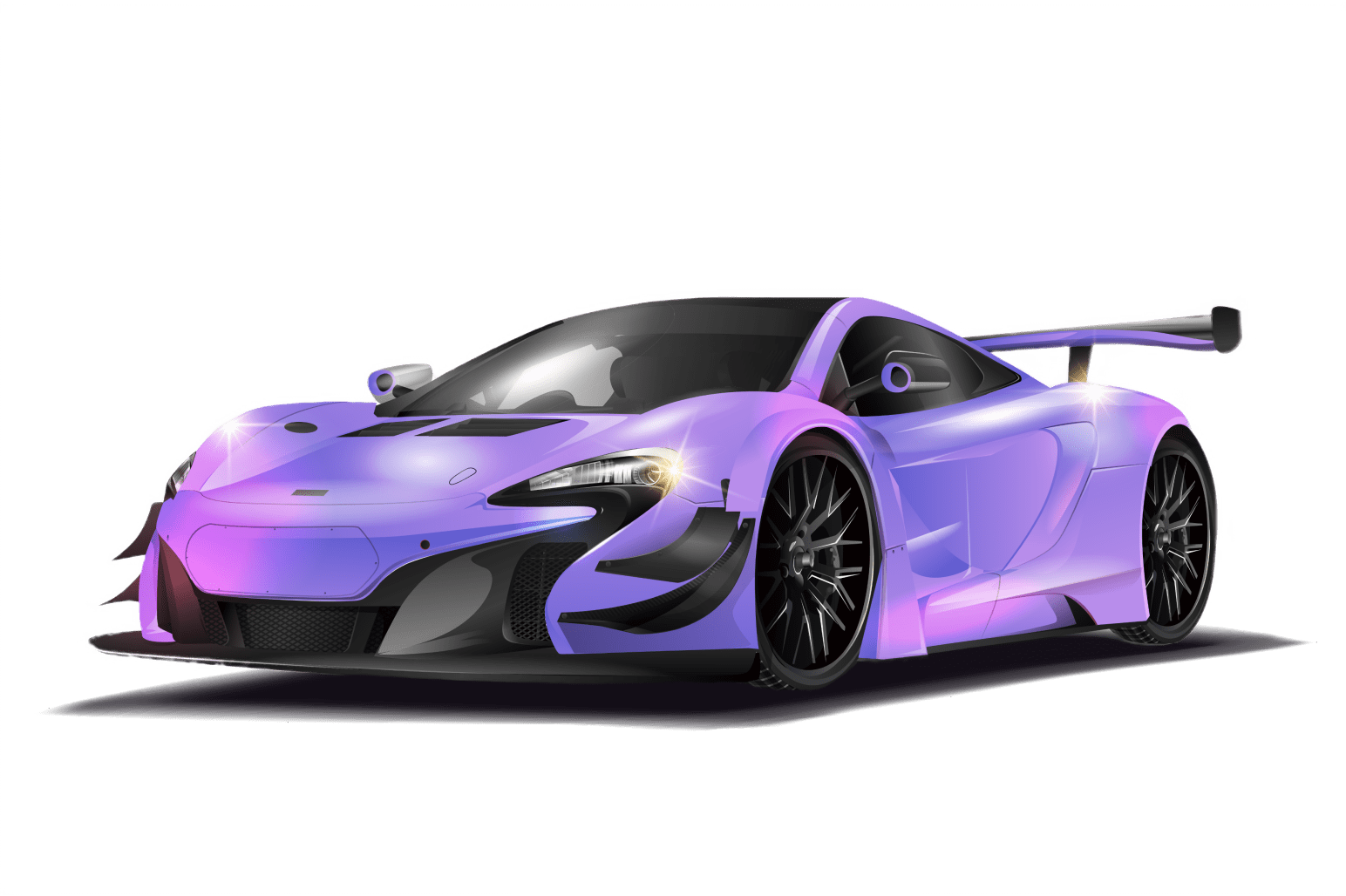 Dominate the main service keywords in your city and nearby area. Our SEO Domination package is the best choice for businesses in large markets. Big market, big benefits, big success. Suitable for businesses in large cities and E-Commerce websites.
Pricing: Contact us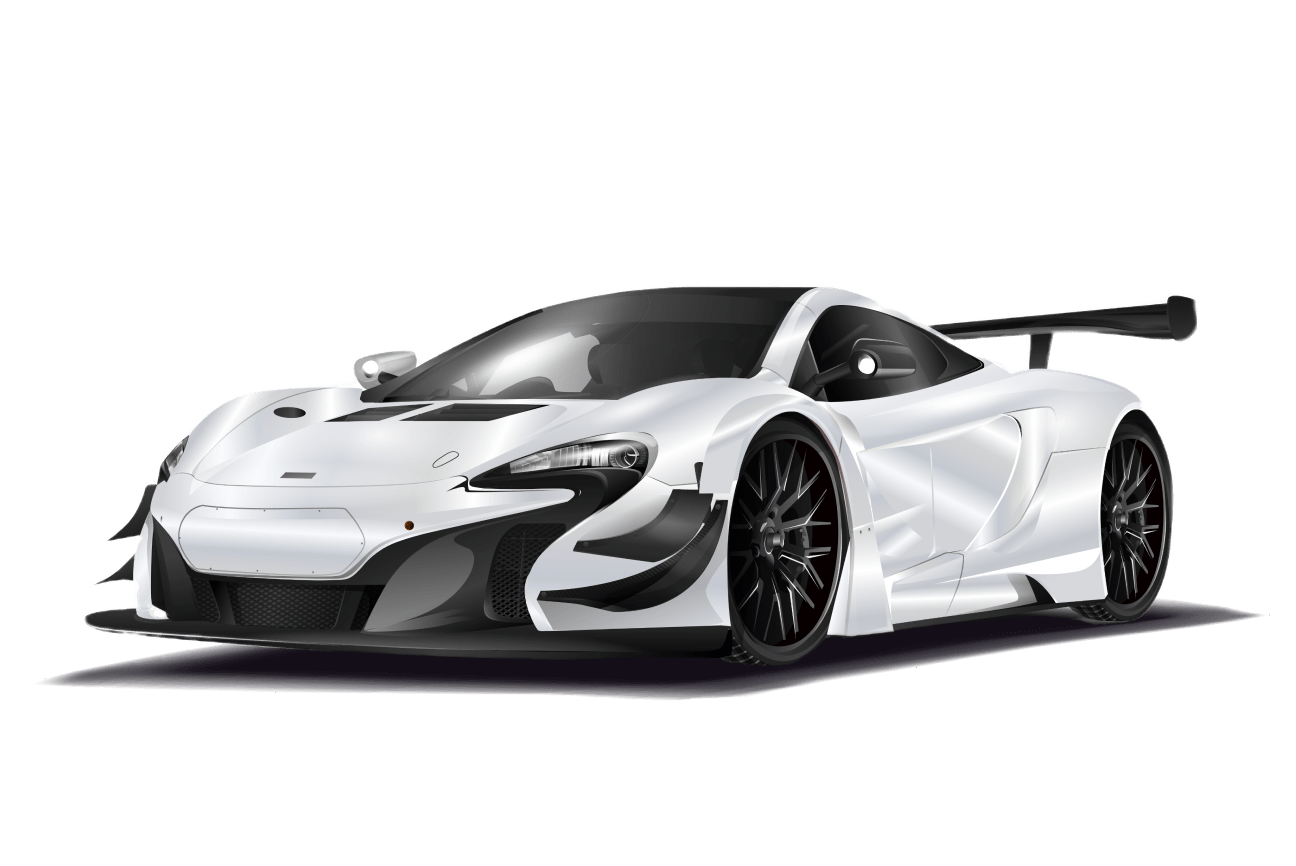 The SEO Silver package helps your business focus on the keywords that generate the most value for your business. The effectiveness remains unchanged. Suitable for businesses in small cities/towns.
Pricing: Contact us
After you choose your template, we will follow 5 steps below to work and deliver the best website for you within 14 days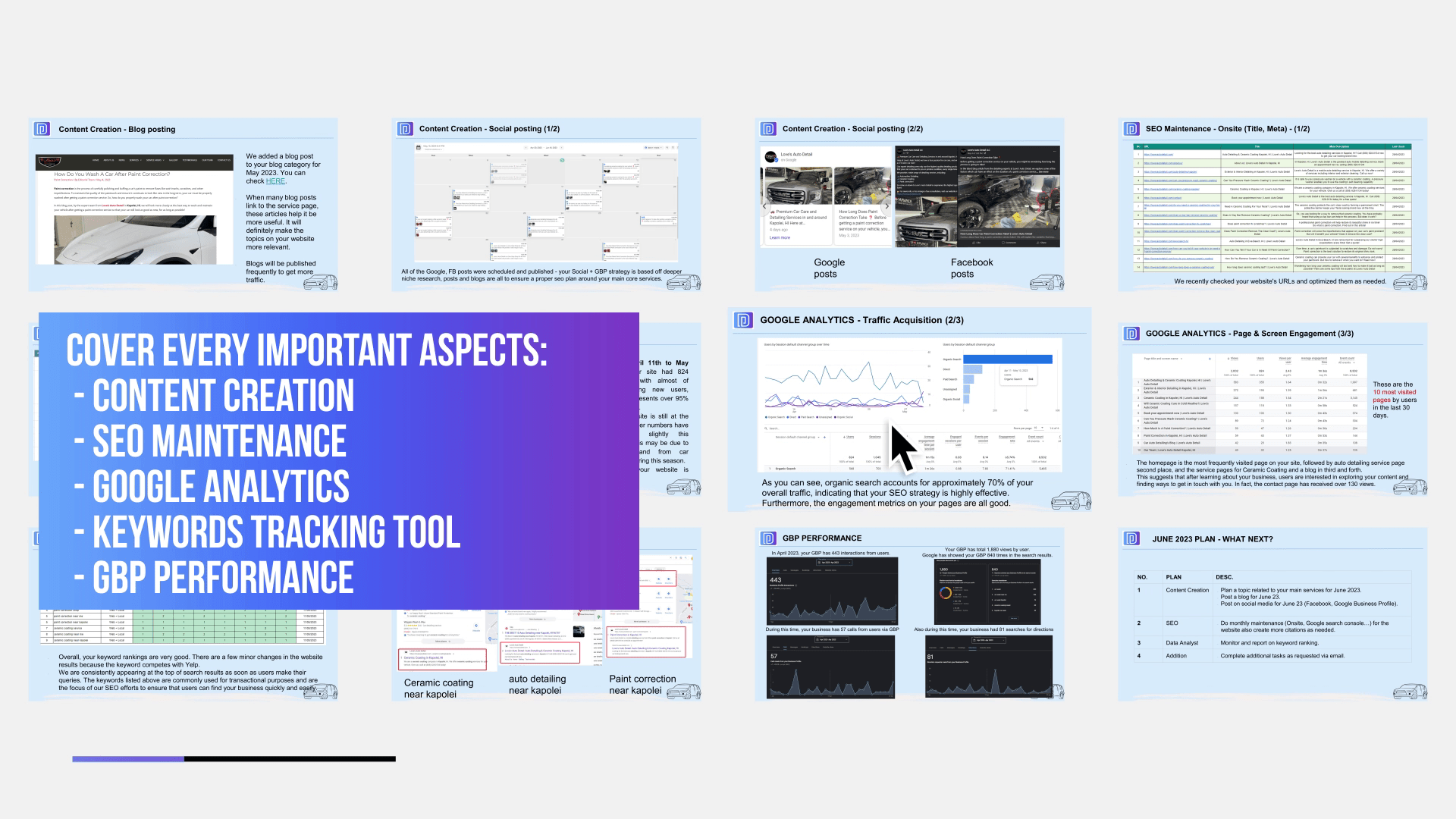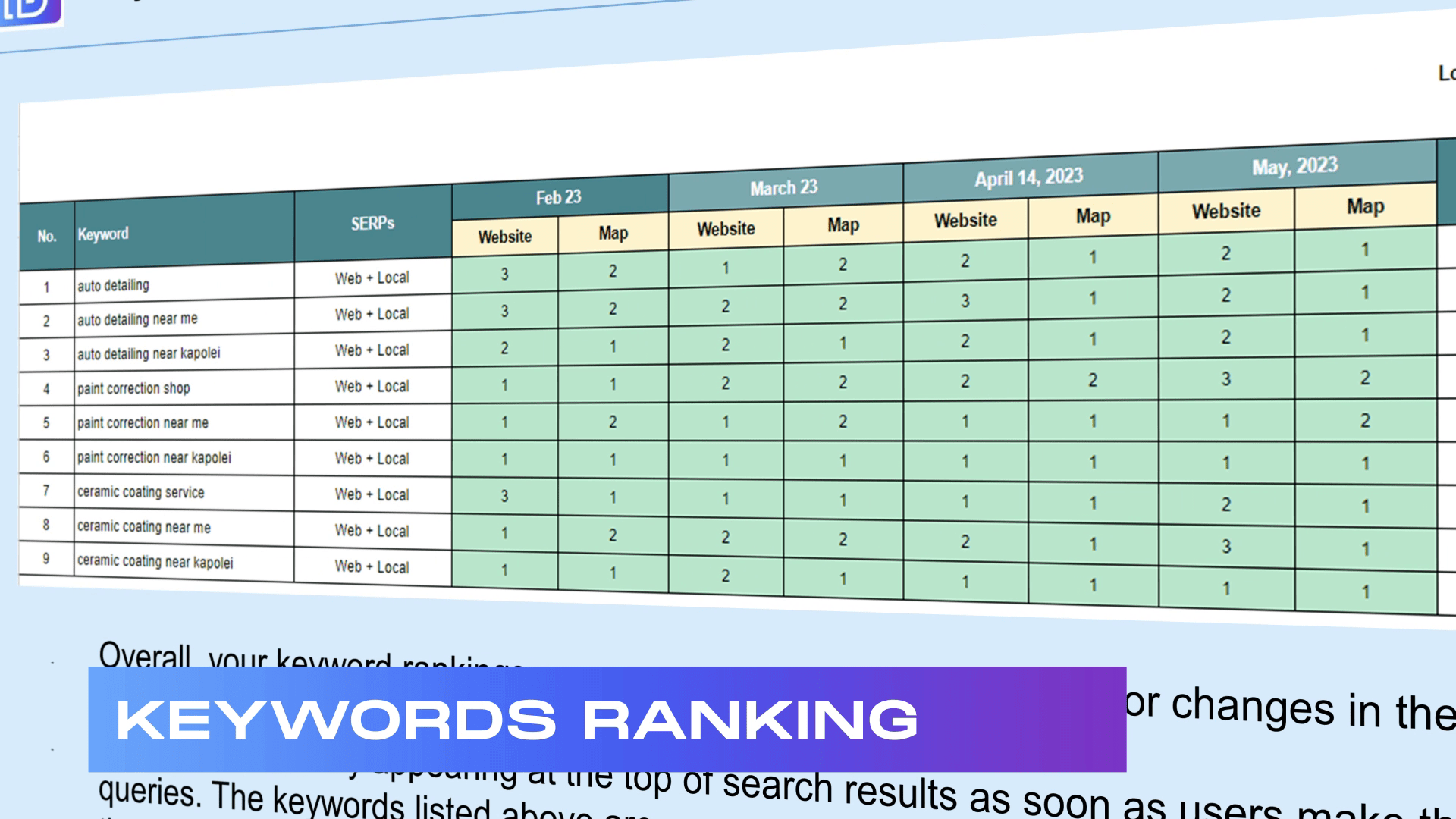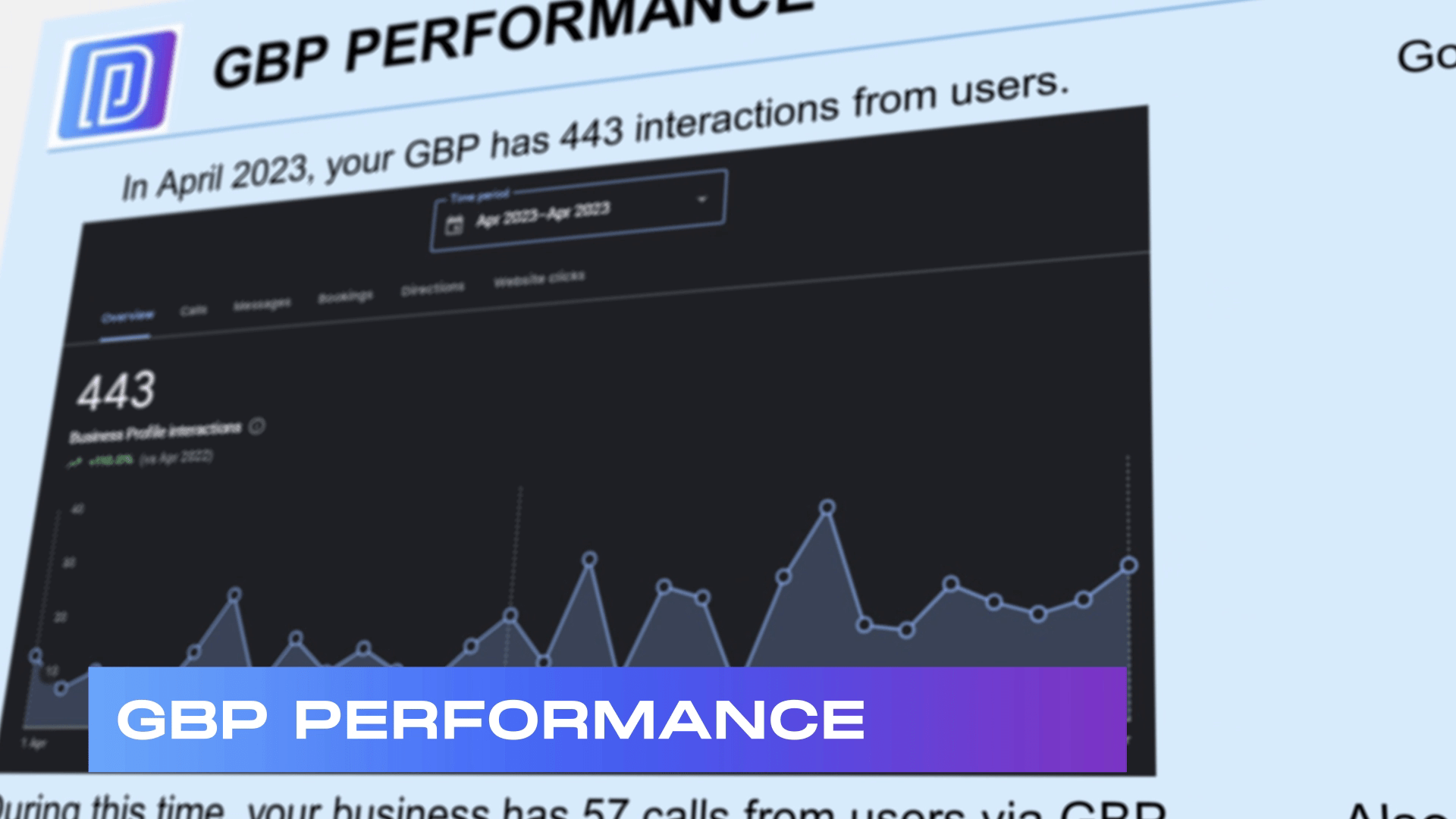 Check out the SEO project report we completed for Car Detailers to learn more about what we can do for you.
What
our customers

have to say
With the successful projects, here is what our customers have said about us.
We are proud to accompany you on your journey.
The guys at Detailers Movement are fantastic, very transparent and honest and in 6 months they have transformed our business – flooding our team with coating and PPF leads.The quality of their work is outstanding, super fast and efficient in their communication and most importantly – they deliver on everything they promise to do – reporting is so good and relevant! So grateful to have the team behind our business and driving leads daily!
The last guy I worked with did absolutely no SEO work or anything so even though my site looked okay, it was not performing whatsoever. The crew here are 1000% transparent about what they are going to do, send weekly reports and are on top of their game!I could not ask for more! The traffic to my site has increased greatly and the content on the website is totally improved. I give these guys 10 Stars! You won't be disappointed.
Completely reset my online presence and pointed it in the right direction – calendar is full up non-stop now with coating jobs! The team at DM went and repaired my website and then every online search engine was optimized.I see monthly reports and get to watch the progress. I'm already receiving better leads and less tire kickers. Worth every penny spent and they are 100% transparent. Must have for someone serious about growth.
FAQ about
Auto Detailer SEO Services
Customers frequently search on Google for Car Detailing services in the local area. In that case, your business will be highlighted on SERPs, attracting more attention.
Our SEO strategy is a comprehensive approach aimed at improving your website's visibility and rankings on search engines. We focus on targeting customers in your local area, specifically those who have the highest demand for your services. This allows us to drive the best possible conversions for your business.
We have some privacy policies for our clients, so we cannot show you directly here. Please contact us, and we will be happy to show you what we have accomplished and are currently doing. We can refer you to some clients who have been with us for over 12 months for their own feedback and experiences.
Detailers Movement
Owned by you - Driven by us
Transform your website into a customer magnet today! We have an in-house team of 28 experienced SEO experts. Design Wizards, Full Stack Developers, Social Gurus, Ad Managers, and more!
Complete the form and contact us about how we can assist, and we'll promptly respond to your inquiry. Our in-house team of 28 includes specialists in search engine optimization, graphic design, full-stack development, social media marketing, and advertising.